Church Street Child Care News
Church Street Child Care Spaghetti Dinner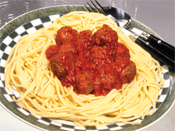 Tuesday, January 29, 2019
Serving @ 6:30 p.m.
Adults $12.00 Children $7.00
* Salad, spaghetti, meatballs, bread & dessert included
* Take a chance raffle following the dinner ~ 5 tickets for $1.00
For tickets, contact Stacy at 860-526-2176 or Kris in the Church Office at 860-526-5045

---
This Sunday
Third Sunday after Epiphany
January 27, 2019
You are invited to worship with us on Sunday at 8:30 and 10:00 a.m. at the Deep River Congregational Church. Sunday School meets during the 10:00 a.m. service.
Rev. Timothy Haut will lead both services and give the sermon. The Scripture Lessons for Sunday include Nehemiah 8:1-3, 5-6, 8-10; Psalm 19; 1 Corinthians 12:12-31a; and Luke 4:14-21.

Linda & Dan Cotton will Greet and our Lay Reader will be Brian May. Ushers are Don Frazier, Tom Groth, Pam Visel, and Diane Brooks. Celeste & Jerry Denne will host Family Fellowship Hour after the 10:00 service.
Volunteers are needed to host Coffee Hour following 8:30 a.m. worship. Please contact Kris in the Church Office if you can help. (860-526-5045 or This email address is being protected from spambots. You need JavaScript enabled to view it.) Thank you!
---